08 Dec

Who's The Best Broken Arrow HVAC Repair Business Near Me?
HVAC Repair Near Broken Arrow 
Heating and air ventilation are of the utmost importance in both residential and commercial buildings. That's why it is important to have a functioning and efficient HVAC system. Heating, ventilation, and air-conditioning systems function to maintain the comfort and safety of occupants inside of a building.
Heating and air conditioning components assist us by controlling indoor climate and proper airflow, ensuring that the building's occupants neither freeze nor overheat. Along with temperature, a well-maintained HVAC system comes into play in the prevention of mold, which frequently thrives in warm and damp areas.
Signs It's Time To Repair Your HVAC System
While some signs of a poorly working HVAC system may be obvious, others are a little bit more settled and harder to detect. Knowing all the signs and warnings of an HVAC system going out will help solve the problem before it comes too costly.
No Cool Air
At some point, you may find that the air conditioning portion of your HVAC system simply isn't pushing out cool air. This could be a sign that your system needs serious repair. As an example, the lack of cool air could mean your compressor has failed or your system's Freon levels are too low. When that time comes, you may have to replace the unit.
Poor Airflow
If you've noticed that your vents are not pushing as much air as they used to or does just weak, the unit compressor may be failing. However, if you noticed that some rooms are receiving more air pressure than others through the vents, the trouble might be that your ductwork May be damaged and will need to be repaired immediately.
In other cases, debris could get stuck in the vents causing a blockage of airflow. If there is a blockage not only does this obstruct the airflow, but could present a health risk to you and your family. Having your HVAC ducts cleaned is a great way to restore airflow but I'm sure that your HVAC system is working well.
Strange Sounds
Squeals, grading, grinding, and other sounds of the lake from your HVAC system may be a sign that you need to replace the unit. These noises imply that something is wrong inside the unit, and failure to service the unit could result in a pricey breakdown.
Typically, a squealing noise means that the belt has slipped out of place. However, you could also indicate that a metal component in your HVAC system needs more lubricant. A grinding sound could mean that the motors and bearings are broken.
Strange Odors
Fowl or pungent odors from your HVAC vents normally mean that your conditioner's wire insulation has burned out. Musty smells generally indicate that there is mold inside your unit and or ductwork which must be taken care of without delay as it is a health issue.
There are many more signs of HVAC issues, so contact your Broken Arrow HVAC Repair technicians if you have any questions about the potential wearing of your machine.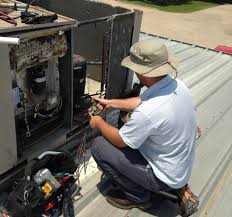 The professionals at Riverside Heat & Air will assist you in getting your HVAC system back to top performance. Our well-trained consultants are here to assist you in achieving comfort in your house with heating and cooling services — from upkeep to repairs, to system replacements. Whether your house is heated by a furnace or boiler system, our Broken Arrow HVAC Repair company can aid in improving your home's effectiveness while providing quick and detailed service.
Riverside Heat and Air's Broken Arrow HVAC Repair technicians can service most brands but specialize in American Standard equipment installations. Making them one of the top trusted furnace repair companies and cooling unit repair companies in Broken Arrow, Oklahoma. The Broken Arrow HVAC Repair staff's knowledge and commitment to clients set them apart in their arena and Tulsa County.
The greatest way to ensure your air conditioning system does not break is to have consistent system maintenance. Nonetheless, sometimes a visit from the Broken Arrow HVAC Repair technician is just what you need. If your air conditioning system is not functioning correctly, make sure to call a certified technician at Riverside Heat and Air. The Broken Arrow HVAC Repair service covers the greater Tulsa area.
So, don't hesitate, contact Riverside Heat & Air, the Broken Arrow HVAC Repair technicians today!