When facing problems with your heat and air conditioning system in Jenks, it can be hard to know who you should call to help solve the problem. So, I did some digging to find out who the best HVAC repair service was in Jenks.
So, who is the best HVAC repair service in Jenks? The best HVAC repair service in Jenks is Riverside Heat and Air. With a focus on residential and commercial solutions including heating, air conditioning, indoor air quality, and installation, they have an abundance of knowledge and know-how to get any repair all HVAC problems.
Riverside Heat and Air is known for their outstanding service and customer "wow" factor, as they do everything in their power to create a positive experience for their clientele. Their top-notch team of highly trained and certified technicians are committed to this effort and work hard to maintain the company's reputation.
The Best Jenks HVAC Repair Service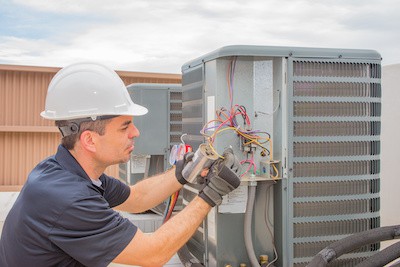 When something in your home needs repair, it is important to know who you should trust to call. There is an abundance of repair services and handymen in Jenks that offer repairs for heat and air conditioning systems, but not all services are alike.
At Riverside Heat and Air, they only employ the best technicians available. These highly trained and certified individuals are, like Riverside Heat and Air, committed to solving all of your heat and air needs while creating a pleasant atmosphere for you the customer.
What Sets Riverside Heat and Air Apart
Whether you need HVAC maintenance to prep your system for the extreme temperatures or need an entirely new system installed, Riverside Heat and Air is up for the challenge. They sell the best heating and air-conditioning equipment available today and exercise excellent installation to match. When you opt for a Riverside Heat and Air installation, you are making the right choice.
There is no job too big or too small for Riverside Heat and Air. From the smallest residences to the largest commercial buildings, Riverside Heat and Air is well-versed in the various needs their clients have and are familiar with the solutions that will set them up for lasting success. When it comes to heat and air conditioning systems, every building has a different set of specific needs, and Riverside Heat and Air knows this. For this reason, they take the time to ensure every installation and repair is suited for the building's needs.
When your system malfunctions, it can leave you unbearably hot or cold. The professional, caring team at Riverside Heat and Air takes this seriously. They are always as prompt as possible, to ensure your system is back up and running in a timely manner. The honest team of Jenks HVAC experts will always work quickly to let you know the best options for your system, whether repair or replacement.
What Riverside Heat and Air Has to Offer
Heat and air conditioning systems are incredibly complex beasts. With a multitude of components, these systems that are designed to make your home both comfortable and safe, do so in a specific, systematic way. Riverside Heat and Air has a full team of certified technicians that know these systems from front to back. It is this kind of knowledge and know-how that sets Riverside Heat and Air apart from other repair services.
When hiring a service of any kind, the customer expects and desires positive results. You cannot always know what to expect when hiring a random repairman. Riverside Heat and Air know this, which is why they employ these highly trained and certified individuals to do their repairs and installations. For results you can trust, Riverside Heat and Air is who you should call. Contact the Riverside Heat and Air team for more information regarding HVAC repair services in Jenks.
Related Questions
What is wrong with my air conditioning system? It is not always a complex issue when it comes to your air conditioning system. Oftentimes, the problem plaguing your system is as simple as a clogged return filter. Behind your home's return grate is a changeable or washable filter. This filter should regularly be replaced or cleaned to keep your system running at an optimal level. Something as simple as a dirty filter can totally freeze up your system. This can result in an uncomfortably hot house on a summer day.
When should I replace my HVAC system? There is no set time to replace your HVAC system. Likely, your system will need services and replacement of components long before your entire system will need replacing. HVAC units are not cheap, but they are built to be services and repaired, leading to long system lives.